I'll admit right now that I've never really streamed many E3 conferences, so I'm not quite up to date on how they usually go down. But apparently it's the most normal thing in the world that Ubisoft's event was hosted by Aisha Tyler (Host of Whose Line is it Anyway, voice of Lana Kane on Archer, and bit character in Watch_dogs). As with most things I suddenly discover on the internet I shrugged it off and allowed Ubisoft's event to unfold before me.
South Park: The Fractured but Whole
First off was the announcement of a sequel to South Park: The Stick of Truth. Not much was revealed about South Park: The Fractured But Whole (Say it out loud a couple times), other than it promised to have the same South Park humor and wit as its predecessor, as Eric Cartman complained "Wrong game, everyone change, we're doing a superhero game now." The game seems like it will switch back and forth between genres and boast improved combat because, as Cartman explained, the first game was "barely an RPG, and the combat sucked. This time we're gonna do it better and settle for nothing less than a 9.5 from Gamespot."
After the trailer, South Park creators Matt Stone and Trey Parker trotted out to briefly explain that the new game will be an origin story and explain more about the player character, the New Kid, and promises to go "deep inside your butthole." I cannot wait. South Park: The Fractured But Whole is available for preorder.
For Honor
A large bearded man with a sword stepped onto the stage for the next presentation. Jason Vandenberg looks to be the perfect man to be the Creative Director of a game like For Honor, a siege game that features three distinct types of warriors battling it out to the death. As of now the game features Vikings (Presumably the Heavy class), Samurai (A class based on agility and speed), and Knights (A good middle ground, it would seem). Vandenberg boasted of the games "Art of Battle" technology, which promises to allow the player to "feel the crashing of a sword on your shield and the satisfaction that comes with delivering the final blow." To demonstrate, two teams went at it in a multiplayer battle. The two sides consisted of the two teams of four, and hundreds of individual AI soldiers, giving it a kind of Medieval Star Wars: Battlefront kind of vibe. As of yet there is no release date.
The Crew: Wild Run
Next up was a trailer for an expansion of Ubisoft's The Crew. The Crew: Wild Run will boast more players per race and completely overhauled graphics for next-gen consoles. There was no demonstration, just a trailer, and no one seemed too hyped. Or that might've just been me. However, if you're into The Crew then the expansion becomes available November 17.
Trials Fusion: Awesome Level Max
The next trailer featured a cat wielding a golden handgun riding a unicorn the breathed fire under a triple rainbow. I have no idea what Trials Fusion is, but I'm being told it's another racing simulator. Aisha Tyler seemed to be sold on the concept purely because of the unicorn, which seems like a fair assessment. Trials Fusion: Awesome Level Max is an expansion of Trials Fusion that will feature new maps, new editor items, and two new events, one of which turns your vehicle into the aforementioned unicorn. All this can be yours if you own either a next-gen console or a PC on July 14.
Tom Clancy's The Division
Tom Clancy's The Division is an urban post-apocalyptic shooter, and at E3 Ubisoft decided to showcase the game's multiplayer functionality with an introduction to The Dark Zone. The Division's trailer didn't have much on backstory, but from what I could gather The Dark Zone is an area of New York that has been quarantined as a result of an incredibly deadly virus. Players can form groups to go scrounging for loot and to level up. The trailer features a team of three making a delicate alliance with some players, shooting some dudes, and then turning on their new friends right before their extraction to steal their stuff. To further nail home that the game's allure is being a douche, the silent member of the three-person team kills his teammates and takes their loot. If you secretly hate your friends The Division releases on March 6 of 2016.
Anno 2205
The newest Anno game, Anno 2205 made its trailer debut as well. The game features futuristic city-building that will eventually allow players to build their cities on the moon. It's unclear if there are any other planets that could potentially populated (Alliteration: +5 points), but you can find out November 3 of this year.
Just Dance 2016
The next segment could be accurately titled "Ubi Does Its Best". I feel as though whenever a dancing game is released it always seems to fall flat amongst the gamer crowd, and Just Dance 2016 seemed to do the same. Aisha Tyler mentioned that these conferences were full of surprises, and "surprises" apparently includes Jason Derulo singing what I'm assured is the number one song at the moment. No one else really knew who Jason Derulo was by sight, it seemed, except Tyler who was having a grand time as Derulo entered the audience to Tyler's enthusiastic seat-dancing. It was also announced that Just Dance 2016 would be made available for all consoles, and would feature a smartphone app to allow dancing bliss for those without camera-equipped consoles. However, if the gen of your consoles could be described as "next", Ubisoft is announcing the release of a constantly-updated streaming service, where fully choreographed Just Dance routines will be released yearlong via Just Dance Unlimited. Just Dance 2016 will be released in October of next year.
Tom Clancy's Rainbow Six: Siege
Ubisoft continued the Cavalcade of Clancy with a trailer for Rainbow Six: Siege. The new Rainbow Six iteration features award-winning actress Angela Bassett as Six, in a move that might signal an increase of the trend of using A-List celebrities in high-profile video game titles. The trailer for the game primarily features her character describing the threat a new group of terrorists (Known so far as White Masks, for reasons that will become obvious after seeing the trailer) poses to the world. Tyler and Bassett spoke briefly about what her acting talents bring to the game, then a team of four players demonstrated what the gameplay is like. The game is supposed to feature permadeath in addition to being wicked difficult; Tyler mentioned that during rehearsal for the conference the team didn't manage to defuse any of the bombs, probably to the player's chagrin. Rainbow Six: Siege drops October 13.
Trackmania Turbo
Next up was an insane trailer featuring in-game footage of Trackmania Turbo. The newest iteration of the gravity-defying Formula One racing game will feature an instant track creation button, which will randomly generate land, track types, and signage to race through. The demonstration took a while to get started as the player tried not to send his car flying into the environment, showing that the game is more difficult than it appears to be. What was left almost criminally unmentioned was the fact that the game will be compatible with VR headsets. Two helmets sat on cushions near the demonstration console, but they were never used or mentioned at all. It seems to me like a missed opportunity to promote Ubisoft's as a company looking toward a future that isn't Just Dance apps, but for those with Oculus Rifts the game releases November 27 of this year.
Assassin's Creed: Syndicate
The Assassin's Creed conference was incredibly underwhelming for me, and I've been on board that particular hype train since the franchise was released. I was wondering what they'd do, considering a voluminous amount of trailers and teasers have been released already, what could Ubi possibly do? The answer, it seems, is release another theatrical trailer featuring the game's sideburnsiest Assassin yet, Jacob Frye, recruiting members for his gang The Rooks while murdering an orphan-buying Templar.
This is worth an entire other article, but one of the draws of this iteration, besides Victorian London and all the technological and historical gameplay elements that brings, is in theory the addition of Evie Frye, Jacob's sister/character foil. She's nowhere to be found in any of the trailers, even though players are supposed to play and get hyped to play as her. A smidge disappointing, in my opinion.
Tom Clancy's Ghost Recon: Wildlands
Finally, Ubi's finishing move was a trailer for another Clancy Franchise, Ghost Recon: Wildlands. Wildlands features a loose group of assumedly American DEA agents in the massively open world of South America trying to take down drug cartels from within. The trailer featured the game's Choose-your-own-adventure-style gameplay, with the same mission being executed from a distance using sniper rifles, from up close in an assault, and with a more stealthy approach.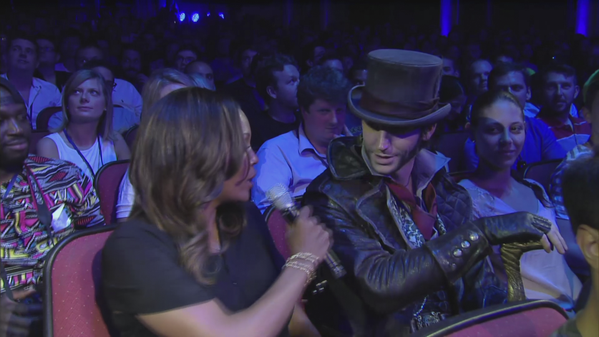 All-in-all I'd say that Ubisoft's performance was very middling. Nothing blew my mind with the exception of South Park, but I still cared about most of the trailers and everything they showed looked pretty dang playable.
What you nerds think? Duke it out in the comments! Follow TSG on Twitter! Respond to my texts, Sherry