Nintendo Direct Overview
Nintendo hosted its latest broadcast of its online showcase Nintendo Direct on March 3. With the newest video, Nintendo revealed and announced a lot of new information regarding upcoming releases for the Wii and 3DS. There's a lot to go through, so let's dive right in.
Wii U
Star Fox Zero
Star Fox Zero, the latest edition to Nintendo's popular space shooter, will release for the Wii U on April 22, 2016. Nintendo showed off some of the major overhauls made to the game since E3 2015, including branching paths, an updated motion-control system, and balancing difficulty. A two-player mode has also been added to the game, with one player controlling attacks with the Gamepad and the other player flying with the Wii Motion Plus Remote. Nintendo also announced Star Fox Guard, a new game that will be bundled with Star Fox Zero. Players will take control of Slippy's uncle in a tower-defense strategy game that includes over 100 levels and a stage creator.
Paper Mario: Color Splash
Paper Mario: Color Splash was announced exclusively for the Wii U. Mario is tasked with returning color to the desaturated Prism Island, with his special color hammer (what else would you use?). The Gamepad can be utilized to draw special cards and "flick" them onto the TV screen for combat. The game is set to release late 2016.
Super Mario Maker
Super Mario Maker will receive a large update this week. Additions to the level-creator include keys and key doors, pink coins which must be collected to make a key appear, Thwomps can now become Skewers from Super Mario World, a Super Expert Difficulty, and lots of new Mystery Mushrooms. The update can be downloaded for free on March 9.
Splatoon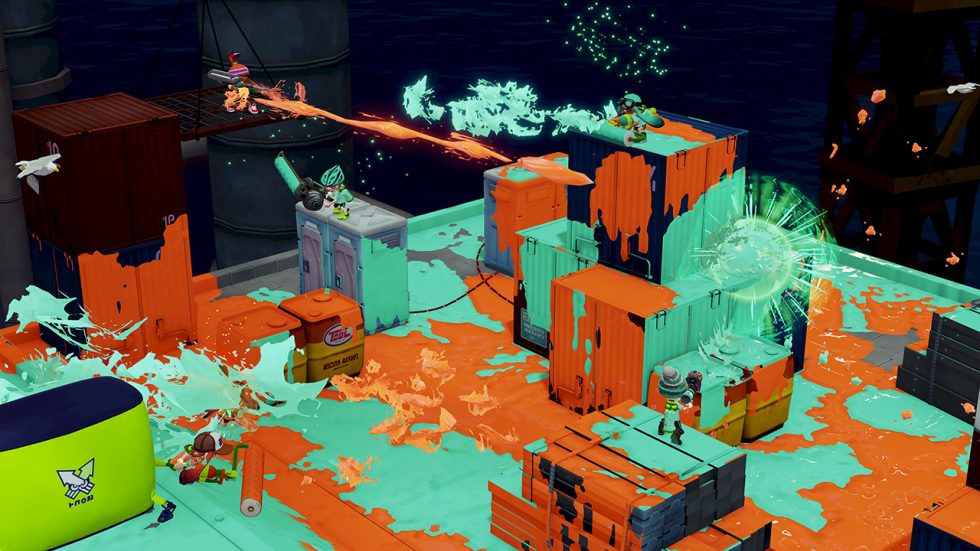 Splatoon will also be getting a series of update starting in the next few days. The first update to the popular team-based shooter will address balancing issues and tweaks to online gameplay modes. This update will be released on March 8, with a second patch, that will update and balance various weapon packs, rolling out in April.
Tokyo Mirage Sessions FE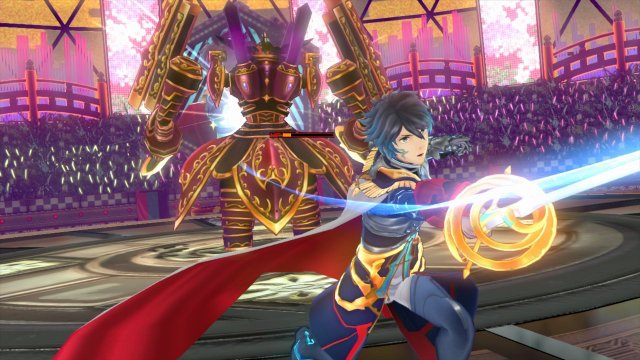 The mashup between Shin Megami Tensei and Fire Emblem, now officially titled Tokyo Mirage Sessions FE, has received a release date in the west. Initially released in Japan in December 2015, the RPG rife with j-pop will be sold in the US starting June 24. No new information concerning the game's content was revealed.
Lost Reavers
Bandai-Namco announced a new free-to-play multiplayer game called Lost Reavers. Players will work together to explore dungeons, collect treasure, and fight bosses. The developers will hold an open beta for the game on April 14, with the full game releasing April 28.
Mario & Sonic at the Rio 2016 Olympic Games
Mario and Sonic's ever-lasting feud will continue once again this year, as Mario & Sonic at the Rio 2016 Olympic Games will release on June 24. Along with challenges in the previous games, two new events, Rugby Sevens and Rhythmic Gymnastics Club, were shown off, as well as new playable characters and the Rio locale.
Super Meat Boy
Super Meat Boy, a super difficult but engaging platformer, is finally set to have a Wii U version. No release date has been set, but fans of the game are rejoicing, as the title was initially supposed to be released for the original Wii.
3DS
Virtual Console
Nine SNES games have just been announced for sale on the 3DS eShop. Starting on March 3 with Pilotwings, Super Mario World, and F-Zero, other games released throughout April include Super Mario Kart, EarthBound, Donkey Kong Country, Donkey Kong Country 2: Diddy's Kong Quest, The Legend of Zelda: A Link to the Past, and Super Metroid. The games will only be available for the New Nintendo 3DS.
Metroid Prime: Federation Force
Metroid Prime: Federation Force is set to release earlier than anticipated. Though no specific date was mentioned, Nintendo has announced that the first-person multiplayer game will go on sale later this spring. Samus Aran, the protagonist of the Metroid series, will be making a cameo in the 3DS game, but will not be featured as a playable character.
Pocket Card Jockey
Game Freak, the developer behind the Pokemon series, announced a new game entitled Pocket Card Jockey. Part card game, part horse racer, and part RPG, players will play solitaire in order to give their horses boosts of speed in races, all while leveling them and creating an equestrian legacy. The game is set to release in May.
Azure Striker Gunvolt 2
Azure Striker Gunvolt 2, recently announced for the 3DS, now has an official release window. The sequel to the Mega Man-esque platformer, which will have new playable characters and the ability to copy bosses' powers, will release this summer for the 3DS.
Bravely Second: End Layer
Fans of Bravely Default won't have to wait much longer for more role-playing adventures. Although Bravely Second: End Layer won't be out for another month, a demo will be released on the 3DS eShop starting March 10. The demo will include over ten hours of content and progress can be transferred to the full game on release. Bravely Second will be available April 23.
Hyrule Warriors Legends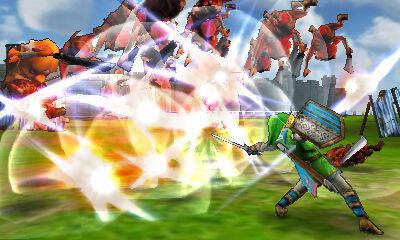 Hyrule Warriors Legends, the 3DS version of the action-packed Wii U game, will have plenty of DLC of its own. Along with Wind Waker's Medli, who will appear in both versions of the game, the 3DS version will have a Season Pass, which includes four content packs. DLC can be purchased separately, but purchases of the pass will include an additional skin for Ganondorf. Hyrule Warrior Legends releases on March 25, with the additional content available this summer.
Monster Hunter Generations

Monster Hunter X will have a North American release, now entitled Monster Hunter Generations. Players who enjoy slaying beasts and collecting their parts for gear will look forward to the slew of new creatures to hunt, a new upgrade system, and more. Owners of Monster Hunter 4 Ultimate will also be happy to hear that if you have save data for the game on your 3DS' SD card, free cosmetic costumes will be unlocked for Monster Hunter Generations. Although no specific release date was announced, the game has been set for a summer release.
Disney Art Academy
Disney Art Academy has also been announced for the 3DS. Acting as a drawing tutorial, players can learn how to draw characters across Disney's IPs, from Mickey Mouse to Anna and Elsa. Artists can begin their sketches starting May 13.
Rhythm Heaven Megamix
Rhythm Heaven Megamix, the newest iteration of the popular rhythm game, will be released in North America. Megamix is touted as a "best of" game, containing some of the series' most beloved games along with plenty of new ones. The game is set to release sometime in 2016.
Mini Mario and Friends Amiibo Challenge
Mini Mario and Friends Amiibo Challenge was announced during the Direct conference. Available for download on both the Wii U and 3DS eShops, players can tap Amiibos on their respective consoles to unlock unique platforming levels, based on the Amiibo used. Levels are based around each character's special abilities. The downloadable title will release April 28.
Kirby: Planet Robobot
Kirby will be saving Dream Land once more in the newly-announced Kirby: Planet Robobot. Mechanized baddies have invaded Kirby's home and turned the entire planet into a technophile's dream. In order to combat the threat, Kirby can use a mech suit and suck up special abilities unique to the robotic armor. The game will also support Amiibos, with each Amiibo granting Kirby an ability. The game will also include a four-player boss rush mode. Kirby: Planet Robobot is set for a June 10 release.
---
Nintendo continually shows themselves to be a company that is dedicated to its fans. Their appreciation of fan feedback is apparent in titles like Splatoon and Star Fox Zero, where complaints and issues have helped to shape the games into stronger titles. Making new games that their fans will love is also a high priority, as seen by all of the newly-announced games for both consoles. In particular, I'm extremely looking forward to Star Fox Zero, Kirby: Planet Robobot, and Paper Mario: Color Splash. Nintendo will have to find a way to top the announcements they've made in the next Nintendo Direct, and I have no doubt that they will.