This War of Mine is definitely not a game to be played late at night. Not because it's outright terrifying, but because eventually it has to be turned off and then usually one goes to sleep replaying the events of their playthrough in their head, thinking about the choices they made and how some people have to actually make those choices for real. It's not the cheeriest of games.
Managing the lives of 3-4 civilians thoroughly unprepared for living in a war-torn area gets bleak. People die. People kill. During a playthrough a character of mine was scavenging through the home of a young couple when the wife freaked out and called her husband to her defense. He came at me with a knife, and all I had with me was a shovel. I defended myself successfully but in the process killed a woman's husband, and she was inconsolable for the rest of time I was there. Like I said, it's not a happy game, but it's the realism that makes it that much more gripping. (I say "realism" despite the amount of time needed to make a heater out of scrap is about an hour and a half. But that's where the disbelief is firmly suspended.)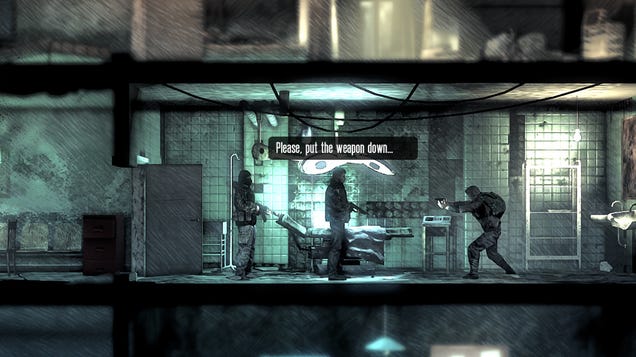 Recently This War of Mine's developer, 11bit Studios, has taken steps to subtly heighten the realism of the game with their War Child DLC. With this DLC the walls of the in-game scavenging locations will be covered with the designs of various street artists. The DLC features work from artists such as M-City, Emir Cerimovic, SeaCreative, and Fauxreel among others. The art is a nice distraction from the in-game suffering and helps to create a feel of a city desperate to find any such distraction themselves.
The DLC sells for $.99, $9.99, and $19.99, and in addition to the aesthetic improvements however much the DLC is purchased for goes directly to charity, the titular War Child. War Child, as one could imagine is a charity dedicated to improving the lives of children caught in war zones by providing education, protection, and psychotherapy. It's a way to help out those in need, make yourself feel good, and get a couple of sweet new skins for some levels.
War is hell. Spruce it up a little.
Here's some links to the DLC and the War Child homepage:
http://store.steampowered.com/app/348040